TIK - Time Inventors' Kabinet
TIK - Time Inventors' Kabinet
… TIK is a project, an interest into ecology and media art, a collaborative experiment with time …
taking an ecological approach to observing patterns in time and time control systems…
the creative tools we build to generate new audio and visual artworks and mediate a creative discourse on ecological time …
an 'horloge a vent'(wind clock), an imaginary time keeping device regulated by the irregular movement of the wind …
workshops, art radio sessions, public access digital media archive, public presentations, conferences and exhibitions, a critical publication … 're-inventing ecological time'…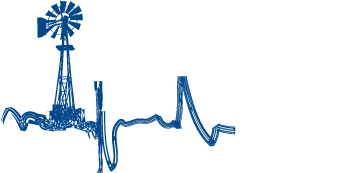 http://timeinventorskabinet.org
LETNÍ DÍLNY KRAVÍN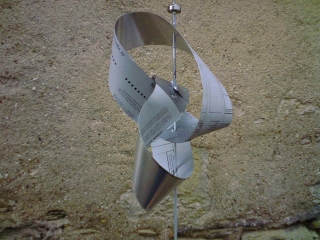 Moebiusmill
The first event related to TIK COL-ME participated in was organized by our associated partner Yo-yo from Prague in their newly acquired barn Kravin in Hranice (CZ). On this gloomy autumn day Michal Cudrnak, Marian Potocar and Barbara Huber jumped the car to drive all the way in the czech hinterland to enjoy the beauties of windmill construction in a countryside environment.
Besides that it unfortunately turned freezingly cold end of August, the setup was fantastic and we managed to have a fireplace every evening.
We arrived with two projects altogether, which were not directly linked to the TIK project. The 'Diafilm Sound Robots' event was based on a pile of old Diafilms a bunch of COL-ME's found while doing their most favourite free time activity: going through garbage.
Bratislava is luckily a city blessed with beautiful garbage piles, in which little treasures like old Diafilmy from socialist times can be found. As the sounds for the films were missing, we activated the workshop participants to create live sound to the images of the Diafilmy.
The second part of the evening we spent with watching the British series 'The Prisoner', which related to the context of the Kravin is situated in ('The Village').
The TIK related work was developing constructions for possible windmill design, to be prepared for the workshop in Korcula.
For this and all the other great things that happened there (creation of a radio play, meetings of local beekeepers, lectures about Czech countrysides,...) please see the documentation of the project on the yo-yo page.
TIK startup meeting Bratislava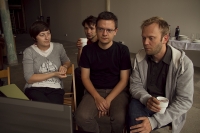 Find a report on the meeting here
and a

The startup meeting of COL-ME for the TIK project takes place from 10th till 13th of September 2010. The TIK project is a collaborative project on time and ecologies between OKNO (Brussels, BE), ESC (Graz, AT) and COL-ME (Bratislava, SK). The startup meeting for the project took place in Brussels in June 2010. In September COL-ME welcomes its associated partners Yo-yo (Prague, CZ), AKU (Banska Bystrica, SK), UKE (Zagreb, HR) and URBAN FM (Prishtina, Kosovo). Unfortunately Grey Area from Korcula, HR are not able to attend, but therefore LineArt (Skopje, Macedonia) will visit us for this event.
For questions about the event or the project, please contact: callme AT col-me DOT info, or visit the TIK homepage.
The meeting will take place in PlanC, Cvernovka, Parickova ulica, Bratislava.
Friday, 10th of September
10:00 - breakfast at Plan C in Cvernovka
11:00 - general introduction into the TIK project (Barbara Huber and Guy van Belle)
12:00 - presentations of the partner organisations
13:30 - lunch
15:00 - forming of discussion groups around topics within the TIK project. Working groups will include the topics Radioproject, how to invent new time based on windtime, programming and technical questions around the project (timedatabase, calendar systems and programming background).
18:00 - dinner
Saturday, 11th of September
10:00 - breakfast at Plan C in Cvernovka
11:00 - working groups continue
13:00 - round up and presentation of working groups
13:30 - lunch
15:00 - setup and making of the schedule for the online conference
17:00 - online conference
20:00 dinner
Sunday, 12th of September
deepening of our thoughts on TIK related issues while enjoying the beauties of Bratislava and surroundings.
14:00 - guided tour through the exhibition "Juraj Bartusz. gestá / body / sekundy" in SNG, Bratislava.
http://www.sng.sk/?id=1&nid=3271&loc=1
Windmill workshop Korcula
In association with Grey )( Area, Korcula, COL-ME and OKNO co-organized the workshop on the Croatian island of Korcula for the first windclock construction.
WindClocks are the starting point and the motors of the TimeInventorsKabinet. They are simple devices to measure the dynamics of the wind and translate this data into WindTime. WindTime is what TIK is all about, we use it for visuals, sound, scheduling and whatever we can apply it to.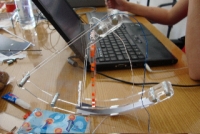 windmill in anemometer design
This workshop was set up to achieve a better understanding of two central, intertwined TIK concepts, WindClocks and WindTime. The outset of the workshop was WindTime research through the joint construction, measuring and connection of actual WindClocks.
Through the construction of prototypes, based on Leonardo da Vinci's anemometer, a possible form of a WindClock was visualised and materialised for further fine-tuning. The focus was on non-spinning models, so that participants would realize that a WindClock is not necessarily a spinning windmill. Prototype development took place at the Amateur Radio Association. These models were adapted to individual needs and ideas by e.g. replacing sensors or adding decorative elements. Once a clock was actually operative data was applied to make simple applications in image and sound.In parallel, different possibilities for a WindClocks network were discussed and set-up.
The workshop ended with a public exhibition at the local Grey)(Area gallery. This also offered the opportunity for actual try-outs.
http://timeinventorskabinet.org/wiki/doku.php
Network and Programming workshop Brussels
Network and Programming Workshop
24th of January 2011 til 29th of January 2011 in Brussels
COL-ME in cooperation with OKNO organizes the workshop 'Network and Programming' at OKNOs place in Brussels, where the long-awaited Windtime protocol will finally be made concrete. The Windtime protocol is what we will connect our WindClocks to and form the new time that will become the basis of TIK developments.
The Windclocks have been developed during the workshop in Korcula (HR) end of September at Grey)(Area - our associated partners. Please see here for Windclock pictures of Korcula.
The workshop is not about teaching, it is about putting our heads together and getting our hands dirty with code. Our aim is, to bring the movement of the wind finally into a virtual sense-giving form for ourselves and to the rest of the world.
Erwan Queffelec has been working on the protocol and will present it, while Geraldo Kogler is making front-end tools to make WindTime more concrete.
We'd like to invite you to participate. The workshop is limited to 10 people locally to keep things focused, we also strongly encourage remote participation, it's a network thing after all!
Please see here the programme for the week:
http://timeinventorskabinet.org/wiki/doku.php/windclocks/software_workshop
For a more or less up to date version of where WindTime is now, check out the wiki http://timeinventorskabinet.org/wiki/doku.php/windclocks
For people from Slovakia, who want to participate, please contact: callme col-me info.
For information or participation, mail to junior isjtar org.
TIK Radiodays I - a recap
Radiodays part one took place from the 7th to the 10th of February 2011 in the local hacklab progressbar in Bratislava. We welcomed guests from our partnerorganisations KitchenBudapest, Kronika, Bytom and Yo-yo, Prague to participate in the first part of the Visegrad workshop row.
To the list of participants and a schedule.
The topic was straight technically set and we wanted to explore technical backgrounds of radio production - like what is a transmitter, how does it work, what other materials we can use to make sound with. We put all this work into an ecological context, as this is part of the TIK project altogether.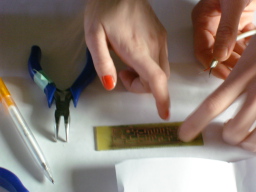 micro-transmitterr
Two workshops were set up as a framework, in which people could develop ideas about ecologies and radio. Ushi Reiter from servus.at in Linz/Austria was invited for a micro-transmitter soldering workshop. Aim of the workshop was, to get people familiar with the idea, of what a transmitter technically is and how it is set up. The advantage of radio is, that it is such a low-level technology and accessible for everyone.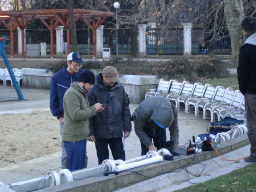 Park radio
Kruno Jost from UKE, one of COL-ME's associated partners and co-organizer of our May 2011 event in Croatia, brought a bigger transmitter to get people familiar with the praxis of transmitting on a bigger scale. His event - the free travelling radio was setup as an example in the nearby park, Medicka zahrada. The local park keeper was helping us out with electricity to power up the needed gear.
We talked about the first forms of radio and the easiest and earliest idea of transmitting sound. Unfortunately not built, but sketched out and researched it was probably the most ecological idea so far.
The thing with the ecological approach:
The techniques would be there to guarantee an ecological approach, but unfortunately quite hard to get. So we had to go back to the good old battery.
But a battery is not a battery. Based on the idea of fruit and vegetable batteries, we started like schoolkids in the first class of Physics to put coins and nails into fruits and potatoes and to measure the electricity that comes out of it.

Potatoe power


This is the first try-out with potatoes. We made it up to nearly 3 Volt with four potatoes cut into pieces. The original plan was, to power up the microtransmitter, that we soldered in the workshop of Ushi Reiter.
The problem of keeping up voltage was apparent and as the potatoe battery went down in power quite fast, we did not try it.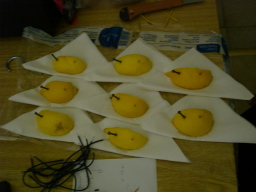 Lemon battery



Another astonishing battery was the lemon battery. Originally we were convinced, that the lemon battery would last longer and give more electricity, than the potatoes but we were horribly disappointed by the fact, that it lost within five minutes already quite some power! Several citron setups didn't change this fact.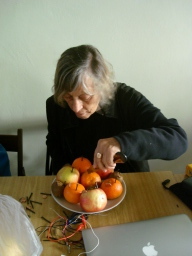 Nina doing the fruitbuddha



The fruitbuddha wasn't too picky about Voltage loss, so it was setup on a mixed fruit plate.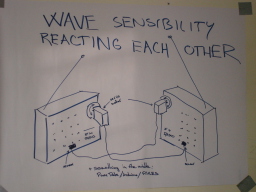 2-comm radio
Another approach to the topic, was to setup radios, that would have a little motor on the frequency search and via sensors to either communicate with each other, or to react on natural influences, like wind, rain or light.
The work is still in progress, as it was a quite complex task, to configure the devices accordingly.
On the last evening we were happy to hear presentations of servus.at and kitchenbudapest and to have the fruitbuddha playing on Radio progressbar with some interviews of bikers passing through our workshop location.
Listen to our Radiostream here
pics and stream
Pictures
More pictures
Radiostream here
TIK-Radiodays II - a recap
The TIK Radiodays II took place from the 14th to the 18th of March 2011 in the local hacklab progressbar in Bratislava. We welcomed guests from our partnerorganisations KitchenBudapest and Yo-yo, Prague to participate.
To the list of content and participants
The second part within our Visegrad circle was concentrating on the content of our get-together, which was time. Our furthermost problem was how to make time audible, how we could talk about it and how to create something within the area of our workshop.
After long talks we took a walk through the city to look for certain areas to record, that we would connect with key words, we mentioned before. Hazy time, shortcuts, subjective time, eco-time zones just to name a few.

Dress rehearsal one

Dress rehearsal two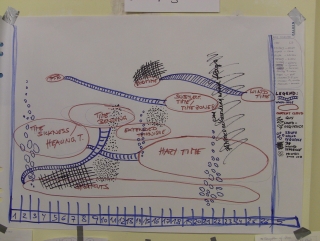 the score
As TIK radioshows will be broadcasted on the radia network (thanks to Verena Kuni at this point) we had to make the show a certain length - in common time - which was exactly 26,5 minutes.
As we had several discussions about the question whether radio should be a live medium and can in reality only be done live, we decided to do a live show, that we would record.
We drew up a score on paper in a very classcial sense to play after. Laszlo Kiss was taking over the role of the conductor - so we became something like a classical orchestra playing after a drawn up score.



On Friday evening we had some presentations of invited guests, including Verena Kuni, Nina Czegledy, Christoph Hessle and Kruno Jost.
More pics, videos and streams:
Images
Videos and sounds
Radio Content Days Marija Bistrica - a recap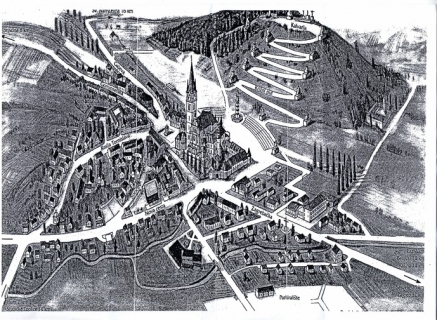 In cooperation with MMkamp organized by UKE COL-ME organized the workshop and conference for "ECO TIME RADIO CONTENT CREATION" in Marija Bistrica, North Croatia from 16th till 22nd of May 2011. The EcoTimeConference took place in the 'Green Room' in Zabok.
See the timetable and list of participants
Our workshop facilitator this time was Jonathan Prior (UK), who did various soundwalks especially for museums and galleries.
http://12gatestothecity.com/soundwalks/

Presentation concept for Museumwalks
We chose Jonathan for various reasons. Since the March workshop in Bratislava we were thinking of how to create content and what kind of content for the TIK radioshows and several topics offer itself along the lines naturally. Whereas in the March workshop we concentrated on the topic of time we decided to take more an approach towards ecologies - a term, which follows a broader understanding than to talk about 'nature'. As we work with sound we naturally talked about sound-ecologies which became therefore a topic for the event.
Museum walks provide normally a frame of explanations of one object or one event and thus giving the visitor a linear and one-sided approach of space and objects. With an alternative museum walk we wanted to change the idea of the museum walk sound ecology.
Sounds are influencing our notion of a place - looking for sounds in a space can give you also a different idea of what this place is rather than only walking thru it.
We chose the Museum of the Croatian and Slovenian peasant uprising in Gornja Stubica. More information about the uprising can be found here.
The museum is located in a castle-like structure and by only looking at the objects the idea that it is about peasants is absolutely not given. As Reni pointed out: "Where are the peasants?". While recording we all experienced a kind of 'ghostly and absurd' atmosphere as the objects would not coincide with what the museum promised and the buidling itself - a quite huge place with access balconies made from marble, a huge inner yard with an old well and protruding staircases - was underlining the absurdity of its content. As it was national school musem day, a bunch of school children, entertained by a modern knight, were present throughout our whole stay.
The outcome was a constant hall of screaming children, chirping birds and a knightactor in the huge and large rooms, which strengthened the idea of some ghostly atmosphere while we listened to the recordings.
Together we ordered recordings, listened commonly to them, gave remarks and tried to work them out into a schemata. We tried several approaches - to structure the walk according to the building seemed to be the most logical structure. So audibly spoken one moves from the inneryard up the stairs into the rooms and walks through them. The outcome you can listen to here:


The final piece of the Museum walk
On the 21st of May 2011 we had in cooperation with the 'Green Room' in Zabok the Eco-Time conference. Invited speakers were Ladislav Galeta (HR), Nina Czegledy (HU), Erika Pasztor (HU), Jonathan Prior (UK) and Reni Hofmüller (AT). If you click on the names, you reach the abstract of each speaker.
Vienna windclock laboratories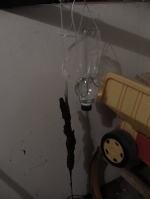 moss experiments
TIK in cooperation with Ms. Baltazar's Laboratories organized a few working labs on windclocks in summer of 2011. As the windclock development was longer on a hold, the building of actual devices was picked up in summer 2011 to boost the output of windclocks. COL-ME went to Vienna several times to work together with the balt-labs on creating more clocks and prototypes.
We tried several approaches - a lot of versions didn't work or the technology turned out not to be too useful for us. So the feather clock as well as the moss clock were dropped in the end and not researched further.
Please see a report on Stefanie's windclockblog on our common wiki:
Stefanie's WindclockBlog
Budapest Wind Time Radio Scheduling Workshop
COL-ME in cooperation with the KitchenBudapest.
In Budapest aim of the workshop was to see, which boxes are still open and we slowly but surely have to start closing. It turned out, that we worked a lot on the windclocks, on a perfection of the javascript for visualizing the data and on creating audiotours. In the end even our radio transmitter tree, that we planned to build since February and several approaches have been (more or less) successfully made worked out.
We decided to have two workshops, to have time to finalize also a proper documentation on the clocks as well as - after months of testdrive - debug the hard- and software. This article covers both workshops - the first one in July 2011 and the second one in October 2011.
Visualization
The first javascript for visualization of the windclocks to establish windtime you can find here: http://go.yuri.at/tikclient/tikclient.html
Raw aesthetics.
After months of work and fiddeling on the question of time we ended up right before our big TIK Radio Art event with this version:
http://tik.col-me.info/
Here you can see already time in winddays/TOKs/TAKs/TIKs (which comply with days/hours/minutes/seconds - but only at the first look) and an alarm clock for the radio makers. This version was the working version for the TIK Art Radio days.
Windclock Assembly Kits
Two working versions of clocks could be produced during this workshop as well, finetuned till October and finally we can present the Assembly kits for interested tinkers.
For the server IP adress in the arduino skript please write to:
callme AT col-me DOT info
NoTours @ TIK
While travelling we met some people form the NoTours project. We were immediately caught by the idea and invested into some Android phones to be able to stream our audio stuff on to them and create audio tours.
The descriptions on their webpage are really good how to create a soundwalk with the Android application. Please beware, that the folderstructure of your own Android phone may be not usable with NoTours. The guys from the app are really helpful though and made us a new pack for the Samsung phones. So do not hesitate to contact them!
NoTours we used during the TIK Art Radio event and exhibition in Bratislava. Currently we have contact with the people to develop the application towards the exhibition in May 2012 in Brussels.
See Reni's really detailed HOW TO NoTours from July 2011.
Transmitter Tree
The transmitter tree was actually an idea from the workshop in February which we finally managed to realize. Please see the video of our success, streaming windsounds to the android and transmitting this sound in the backyard of KIBU.
TIK Art Radio 6-11 September 2011
The TIK Art Radio was the final event in a long row of preparations done by COL-ME on the field of radio technique and radio content. This week-long event was building on all the workshops of the past in 2011 as well as including the development of the windtime by all the TIK participants in general.
A long row of thoughts, of working on things and preparations peak in a huge event in September, that included also an exhibition of pieces, done during the project and beyond.
An exhibition opening on September 5th started the event also for our participants.
Previous to the stream, we started a call for windsounds amongst participants and other interested people, to start a permanent windsound stream. From beginning of August this stream could be received over COL-ME's streaming server.
THE EVENT
The whole event was based on the idea of media and time and the fact, that popular media like television and radio are hard to imagine without our usual time.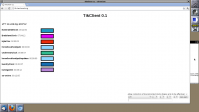 Windclock with UniversalTikTime (UTT)
We would not know whether our favourite programme already started or not, was it not due to our 'standard time'. The event wanted to break the rules and boarders of this idea and establish radio based on TIK's wind-time and an extra online windclock developed for this purpose.
According to the windclock the schedule of the programme was scheduled.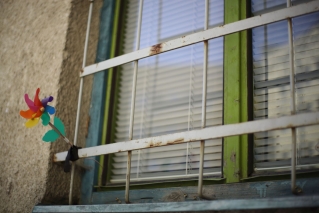 Bratislava Windclock in Progressbar
For this event people from a lot of different countries participated with pre-produced radioshows or live produced pieces, that were scheduled in an approximate schedule according to windtime. During the event we experienced a somewhat loose of time feeling - the windclocks prooved to be more tricky than we thought and we did not consider, that they could go backwards as well. So it could happen that at some points we were thrown back two days in our schedule and we had to re-schedule the event.
The schedule was daily announced (with possible corrections) on our TWITTER account so people could follow what was actually happening on the stream.
The local TIK Artradio Crew produced a total amount of six broadcasts including a vivid discussion with the arrival of a Croatian/Slovenian study group from the group ACT from Cakovec, Croatia.
The local TIK Artradio Crew consisted of Jonathan Prior (UK), Verena Kuni (DE), Ana Vuzdaric (HR), Michal Kindernay (CZ), Michal Cudrnak (SK), Ludmilla Hornakova (SK), Juergen Rendl (AT/SK), Martina Kedrova (SK), Marton Juhasz (HU), Reni Hofmueller (AT), Norberth Math (AT), Barbara Huber (AT/SK).
The following pieces were produced live in Bratislava during the event



First show




Second show




Third show




Fourth show




Fifth show




Sixth show



Additional pieces and remote participants:

Reni Hofmüller: "A night in Bratislava"


Jonathan Prior: "Devinska Kobyla soundwalk"


Anna Friz: "For the time being"
Sarah Boothroyd: "All in time"
Radio Verite from Brno
Ralf Wendt: "Wolves in Greenland"
Shaun Robert: "Invisible"
Absolute Value of Noise: "21st Century Universal Time Signal"


Roger Mills: "Idea of South"
Brian Kelly: "Winterdub: Tannenbaum Mix 2010"
"NEU presents: Human Condition Orchestra"
Easterndaze live from Skopje




Sally McIntyre: "A library for the birds from Otepoti"
[Pictures of the event were made by Tomas Korber and Milivoj Kuhar]
TIK Exhibition Bratislava
The exhibition 'Wind and Time' (Vietor a cas) took place at the same time as the TIK Art Radio event in Bratislava. The opening was on the 5th of September 2011 in ASIL gallery on Stefanikova ulica, Bratislava.

TBC
Verena Kuni (Germany)
http://www.kuniver.se
Scholar in the field of history and theory of art and media cultures and professor for Visual Culture at Goethe University, Frankfurt Main. Since 1996 she is lecturing, researching and teaching at universities and art academies in Europe and beyond. From 1995 to 1999, she co-curated the video section of Kasseler Documentary film and Video Festival, where since 1999 she is director of the yearly interfiction summit for art, media, and network cultures. Her research is dedicated to transfers between material and media cultures; media of imagination and technologies of transformation; alternate realities; urban biotopes; DIY and presume cultures; games, play and toys as tools. She has published widely (print & online) on contemporary arts & media, their histories and futures. Since 1997, she also runs her own radio shows.

The Veil
Stefanie Wuschitz (Austria)
http://grenzartikel.com
This veil is embroidered with conductive thread connected to a 9 volt battery. A magnet irritates the field of electric current; an amplifier picks up the signal and makes radio waves passing by audible to the person wearing the veil. Material used: fabric, conductive thread, magnets, battery, op-amp, headphones
Stefanie Wuschitz is an artist, researcher and hardware hacker. She studied media arts in the University of Applied Arts, Vienna and completed her Masters at NYU's Interactive Telecommunications Program. At the moment she is a doctorate candidate at the University of Technology, Vienna. In 2009 she coordinated Eclectic Tech Carnival – gathering of women interested in open source technology. In the same year, she founded "Mz Baltazar's Laboratory" – a meeting place for women and trans, who love to make things, rather than consuming them. She presented her work at several events, this year for example on the Transmediale festival in Berlin, or TEDx conference in Bratislava.

Envi*tuner
Michal Kindernay - Envi*tuner
http://yo-yo-yo.org/envituner.html
"Radios are tuned by the underwater sounds of Vltava river and sensors. Underwater sound landscapes and waves generated by the ships turn the radio potentiometers. Voices from very remote places are brought to the Vltava river valley by small radio speakers." The site-specific sound intervention was installed and developed on the bank of Vltava river during the Soundwalk event and in TIK Radio Days in Bratislava. Material used: radio
Michal Kindernay is an intermedia artist who works with interactive interconnections of sound, image and other inputs in an environment of interactive (not only) computer applications, designed for work with sound and image. His works include videos, performances and installations.

Laundry Clock
Barbara Huber – Laundry Clocks
http://col-me.info
These wind-clocks "produce" time when moved. Laundry is usually associated with female unpaid labor - washing, hanging up, ironing, folding, putting it in the cupboard, using them (and then the cycle starts again.) Time, as a two folded being, has a linear and a cyclic life as well. While the linear is usually connected with progress, the cyclic is connected with tradition and standstill. These Laundry Clocks are actually advancing time, while secretly representing cyclic movements. Material used: fabric, conductive thread, conductive fabric, wires.
Barbara Huber lives and works in Bratislava. Radio maker, cultural worker, builder, traveler and one of the founders of COL-ME.

Prediction
Ľudmila Horňáková - Prediction
Audio reconstruction of the disaster which took place on 26th April 1986 in the USSR. It comprises of 15 weather forecasts for the day before it happened, in countries most heavily affected: Denmark, Czech Republic, Finland, Sweden, Belarus, Ukraine, Russia, and Slovak Republic. The sound installation will be playing 12 hours from 6am to 6:30. The broadcasts are ordered in a way that follows the real-time unfolding of the event and maps slow shifts in weather in countries mentioned above. Despite the fact that information about the incident had not become publicly known until three to four days after the incident, the basic information about the future happenings had already been encoded in the weather. Material used: speakers, radio transmitter
Ľudmila Horňáková is a student of Ilona Németh's Atelier "IN" at Academy of Fine Arts and Design Bratislava. She did her internship in Designskoolen Academy in Denmark and for the past two years she has been dealing with social topics and public space. She co-founded the organization ZA3 2 RE and underground flat art gallery Björnsonova 2 in Bratislava. Among her other interests are graphic design, bookmaking and jewelry production.

Collected Field Recordings
Jonathan Prior - Collected field recordings, 2010-2011
http://12gatestothecity.com/
Rather than strictly dealing with the measurement of time, in my sound recording practice I am interested in the presence of sonic rhythms in the sound world.
Such rhythms are to be found even in the most seemingly chaotic sound environments, each with their own tempo and cyclical duration. Recorded while undertaking TIK-related projects in Marija Bystrica (Croatia) and Brussels (Belgium), and supplemented with further recordings from where I currently live (Edinburgh, Scotland), this edited collection of field recordings reveals some of these rhythms, from the slow repetitious bursts of energy as trains heave in and out of Brussels central station, to the frenetic activity of cicadas singing in the Croatian countryside. Duration: 20 minutes
Jonathan Prior is an academic researcher and sound artist, based at the University of Edinburgh, Scotland. In his sound work he is interested in how people experience sound in different environments, and so the relationship between sound and the perception of place and space. He uses this as a basis to creatively "disrupt" people's expectations of the sound world, to get people to think deeply about everyday sounds, using field recording and "soundwalking" methods to achieve this.

Walking
Reni Hofmüller – Walking
"Walking" is based on the smartphone app noTours. noTours navigates the user to points on maps via GPS and plays associated sounds when entering the range. Sounds in this guide are dedicated specifically to surroundings of the ASIL Gallery and the visitor can use his/her phone to download the application and sounds. While strolling through the streets, the visitor will hear the city with his/her perception of the surroundings changed. Material: mobile phone. Duration: depends on you, how long you want to walk
Reni Hofmüller (Austria)
http://esc.mur.at
Freelance DIY-media artist, artistic director of ESC (space for experimental art in Graz), translator, co-initiator of mursat, the space art nano-satellite from mur.at
Soundlab Graz @ESC
The soundlab in Graz was a short interference within the TIK project and served the development of COL-ME's soundworks so far. In cooperation with our TIK partner and the local organisation ESC a lab for experimenting with sounds was organized.
The aim was to see, whether we can build and how to build an exhibition device to represent soundworks.
After two days of experimenting with new materials like PLAAST, a material you can form in any shape when it is heated up to 60° we went thru several prototypes.
The original idea was to create 'soundshowers' - mechanical devices that would direct sound in space - basically like a laserbeam for sound. After several unsatisifying experiments with funny shaped things we turned to use PLAAST to see how sound and water would interfere. After creating several underwater soundboxes in all kind of shapes, we came to the conclusion that swimming speakers would give the best results in the question of directed sound in space.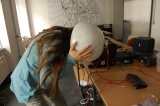 Still unsatisfied with the results we finally turned over to tubes - specially shaped tubes, normal tubes from carton from the garbage, plastic, glass and whatever else was at our disposal. The quite cheap speakers we used for experiment would still leak most of the sound through the back - so we started to look for isolation materials, that would be soundproof enough to give the sound no space to leak. This is not very easy to find - other than working with light, sound is really annoyingly everywhere and not so easy to cut out.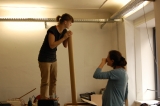 Finally it turned out that the best directional sound we could get, was to put the speaker in an isolated box and to direct it into a tube. The sound is therefore only audible directly in front of the tube, but not in the rest of the space. Thus we developed the idea of a soundorgan, that could additionally be driven by windclocks.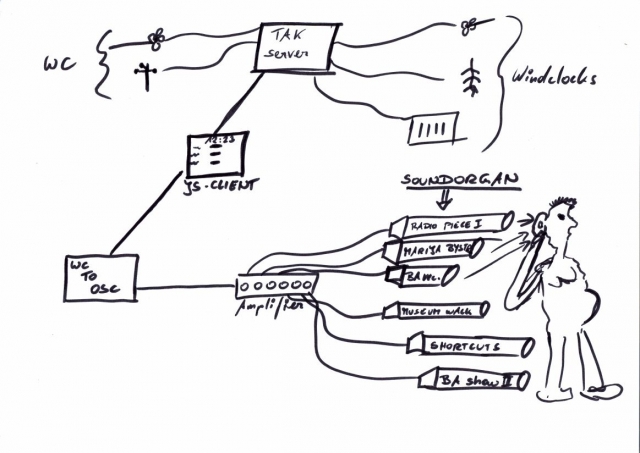 Col-me-organ
Each of the tubes contains one piece done within one of the COL-ME workshops/soundlabs and events. Each of the speakers is driven by one special windclock connected to the TAK server. Therefore the piece is only audible, when the clock actually gets wind. Two windclocks are supposed to be in the same space as the organ. So visitors can start/stop at least two of the tubes by themselfes.
On a different soil - EcoTimeConference
The conference 'On a different soil' taking place in Prague from 10-13.November 2011 was the last EcoTimeConference that was co-organized by COL-ME with the local collective yo-yo.
A Conference plus an exhibition was to be seen for three days in 'Mala Scena' in Prague.
Four people sat on COL-ME's panel with different projects.
Milota Sidorová: Ciel: Fikcia. Tam a opäť a späť.
Srdan Ivkovič: Súkromné hranice.
Eva Brániková: Naša utopická záhradná
Jürgen Rendl: Strácanie sa v Stadlnova
Barbara Huber's Laundry Clock was part of the exhibition. Curators and organizers: Martina Kedrová and Michal Čudrnak.
TIK Worklabs 2012
For the TIK exhibition taking place in May 2012 we planned to do some worklabs with the participating artists in order to build the installations, discuss still the articles published and to enjoy the last TIK months together after a long time of work.
The worklabs took place in
Vienna --> 14-16.03.2012 and 25-27.02.2012
Bratislava --> 8-10.03.2012 and 16-17.04.2012
Additionally we had on the 09 of March the public evening of the sound in Progressbar, Bratislava, where we presented preliminary parts of the works that would be exhibted in Brussels. See the invitation below.
Altogether we had four worklabs in collaboration with the Austrian organization Mz. Balthazaars Laboratories in which we developed our works. A visit in the Viennese 'Haus der Musik' brought Martina Kedrovas and Barbara Hubers work 'Ctesibius' into a more concrete shape, while Stefanie Wuschitz was fiddling on her mossclock and Ludmilla Hornakova put together the idea of the flying balloon.
In the course of this we discussed the articles of the publication as well.
TIK-Publication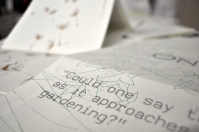 The TIK project ended in May 2012 and as one of the results we are proud to present the TIK publication - a common publication of all the involved groups in the TIK project.
You can read the publication online or ask for a hard-copy exemplar at:
callme AT col-me DOT info
As a matter of fact not all the articles written were published. As we think, that all of the articles COL-ME received from it's writers are worth reading, we publish them now online.