TIK Radiodays Bratislava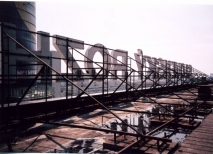 In two workshops, we will start up the TIK radio programme. COL-ME's involvment in TIK (Time Inventors' Kabinet) is to a very high extent focused on radio. Because of this, we organize two follow up workshops, that tune into each other and give us a lot of time, to develop technical needed devices as well as content ideas about the coming up radioshows.
Supported by Visegrad, our three partner organisations are involved in the course of the whole development and are invited to participate in further TIK workshops throughout the year.
KIBU, Budapest, KRONIKA, Bytom and Yo-yo, Praha send for each workshop artists to participate and develop parts for the project.
7th of February til 10th of February 2011
14th of March til 18th of March 2011
both times in progressbar, Cukrova 14, Bratislava. The workshops are free of charge and will take place in english language. Please register at: callme@col-me.info
In the first workshop we will deal with technical details and gimmickery of radio production. The workshop is organized not in the classical sense of a workshop, but rather drives on ideas and own drives and backgrounds of the participants. We invited a few people to set corner points for orientation and to create a basis, from what to work from. Besides that the open character of the workshop enables artists and cultural workers, to develop their own ideas and put them together into reality during these four days.
Special guests are Ushi Reiter from servus.at, Linz, Austria and Kruno Jost from UKE, Krizevci, Croatia.
Preliminary schedule: http://timeinventorskabinet.org/wiki/doku.php/tech-radio
The second workshop is fully dedicated to content. Time, time and socialisation, time as a topic within the arts in an historical overview as well as ideas like the TimeBendingClock. We will split up into teams, working on certain aspects of the topic within the TIK project. The outcome of this workshop will be the first and full TIK radioshow, that will be broadcasted within the radia artradio network, as well as other radios around Europe.
Special guests are Dr. Verena Kuni from the Goethe-Universitaet Frankfurt/Main, Nina Czegledy from Budapest and Chris Hessle from Vienna, Austria.
Preliminary schedule: http://timeinventorskabinet.org/wiki/doku.php/content_ba
Please also see our idea collecting pool on our wiki: http://timeinventorskabinet.org/wiki/doku.php/radio#tik_radio