Workshop on housing in Bratislava
crisis_mania 2 - Housing as culture

Friday, 29th of January to Sunday, 31st of January 2010

Where: Plan C, Cvernovka, Páričkova 18, Bratislava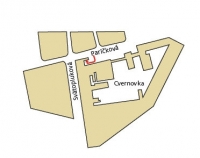 COL-ME invites for a discussion and workshop on various aspects of housing/dwelling in Bratislava. Within the frame of the project crisis_mania, the second workshop cares about housing in general and specifically in Bratislava in times of economical (personal and worldwide) crisis.
After the first workshop, which dealt with the topic of travelling, we now take a closer look at housing situations here and elsewhere.
Friday, 29th of January 2010 - public presentations and discussions at 18:00
COL-ME started with research in certain areas already in the early autumn and bases the programme of the workshop partially on these researches and insights gained from it. We followed two focusses.
The first one was living situations of precarious living people, where our focus fell on homelessness and disabled people in Bratislava. With one questionnaire we tried to get an overview on every day questions and needs of life. Please find the questionnaire attached to this article (available currently only in slovak). The answers give an insights into situations, needs and feelings of people living in different situations than an average person.
The second focus is on the area Trnavka/Dornkappel - around the turn of the century a working class slum created by the working force who pushed for work into the city. But also a vivid cultural life, that was completely bottom up, was taking place there. On the opposite we find 'ordered' housing projects for workers in the residential areas of 'Nova Doba' and 'Unitas' which were built at about the same time. Thus the connection of the economical crisis of the 30s till the crisis of today.
Saturday/Sunday, 30th/31st of January 2010 - active research (all day)
Based on these presentations we would like to invite to discuss the development of working groups, who go into active research the following two days. We would like to keep the direction of the workshops open and want to develop them out of the discussions and the research presented on Friday evening. Our focusses are clearly on the activeness of our approaches and researches and follow integrative approaches of thinking and planning.
This project is supported by: