crisis_mania publication out now!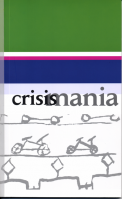 Finally the publication of our project is out. Months of work were worth it and we can proudly present the final publication.
You can either download the publication here or order a publication, which we will deliver to you with post. Send an email with your snailmail address to: callme AT col-me DOT info
Crisis_mania publication distribution tour. The publication is being distributed. In a world full of individualism we decided to deliver the publication in person. Please see the map, where the publication already went to. Our tour will continue now in August finally to our project partners to Budapest and to Praha.
Click on for the map and on the balloons to get information about each place.