TIK startup meeting Bratislava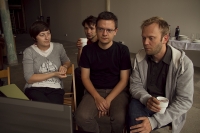 Find a report on the meeting here
and a

The startup meeting of COL-ME for the TIK project takes place from 10th till 13th of September 2010. The TIK project is a collaborative project on time and ecologies between OKNO (Brussels, BE), ESC (Graz, AT) and COL-ME (Bratislava, SK). The startup meeting for the project took place in Brussels in June 2010. In September COL-ME welcomes its associated partners Yo-yo (Prague, CZ), AKU (Banska Bystrica, SK), UKE (Zagreb, HR) and URBAN FM (Prishtina, Kosovo). Unfortunately Grey Area from Korcula, HR are not able to attend, but therefore LineArt (Skopje, Macedonia) will visit us for this event.
For questions about the event or the project, please contact: callme AT col-me DOT info, or visit the TIK homepage.
The meeting will take place in PlanC, Cvernovka, Parickova ulica, Bratislava.
Friday, 10th of September
10:00 - breakfast at Plan C in Cvernovka
11:00 - general introduction into the TIK project (Barbara Huber and Guy van Belle)
12:00 - presentations of the partner organisations
13:30 - lunch
15:00 - forming of discussion groups around topics within the TIK project. Working groups will include the topics Radioproject, how to invent new time based on windtime, programming and technical questions around the project (timedatabase, calendar systems and programming background).
18:00 - dinner
Saturday, 11th of September
10:00 - breakfast at Plan C in Cvernovka
11:00 - working groups continue
13:00 - round up and presentation of working groups
13:30 - lunch
15:00 - setup and making of the schedule for the online conference
17:00 - online conference
20:00 dinner
Sunday, 12th of September
deepening of our thoughts on TIK related issues while enjoying the beauties of Bratislava and surroundings.
14:00 - guided tour through the exhibition "Juraj Bartusz. gestá / body / sekundy" in SNG, Bratislava.
http://www.sng.sk/?id=1&nid=3271&loc=1