LETNÍ DÍLNY KRAVÍN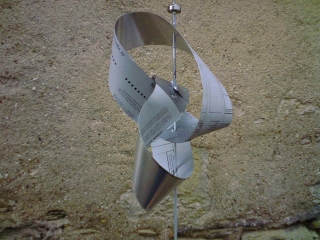 Moebiusmill
The first event related to TIK COL-ME participated in was organized by our associated partner Yo-yo from Prague in their newly acquired barn Kravin in Hranice (CZ). On this gloomy autumn day Michal Cudrnak, Marian Potocar and Barbara Huber jumped the car to drive all the way in the czech hinterland to enjoy the beauties of windmill construction in a countryside environment.
Besides that it unfortunately turned freezingly cold end of August, the setup was fantastic and we managed to have a fireplace every evening.
We arrived with two projects altogether, which were not directly linked to the TIK project. The 'Diafilm Sound Robots' event was based on a pile of old Diafilms a bunch of COL-ME's found while doing their most favourite free time activity: going through garbage.
Bratislava is luckily a city blessed with beautiful garbage piles, in which little treasures like old Diafilmy from socialist times can be found. As the sounds for the films were missing, we activated the workshop participants to create live sound to the images of the Diafilmy.
The second part of the evening we spent with watching the British series 'The Prisoner', which related to the context of the Kravin is situated in ('The Village').
The TIK related work was developing constructions for possible windmill design, to be prepared for the workshop in Korcula.
For this and all the other great things that happened there (creation of a radio play, meetings of local beekeepers, lectures about Czech countrysides,...) please see the documentation of the project on the yo-yo page.