TIK ArtRadio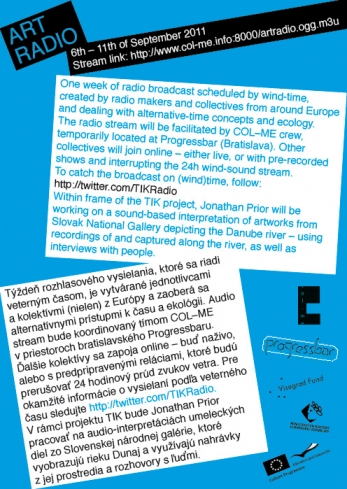 TIK ArtRadio
6th - 11th of September 2011
Ogg stream
RSS stream with real-wind-time updates





One week of radio broadcast scheduled by wind-time, created by radio makers and collectives from around Europe and dealing with alternative- time concepts and ecology. The radio stream will be facilitated by COL-ME crew, temporarily located at Progressbar (Bratislava). Other collectives will join online – either live, or with pre-recorded shows and interrupting the 24h wind-sound stream.
To catch the broadcast on (wind)time, follow: http://twitter.com/TIKRadio
Within frame of the TIK project, Jonathan Prior will be working on a sound-based interpretation of artworks from Slovak national gallery depicting the Danube river - using recordings of and captured along the river, as well as interviews with people.