TIK Artradio
The TIK Art Radio was the final event in a long row of preparations done by COL-ME on the field of radio technique and radio content. This week-long event was building on all the workshops of the past in 2011 as well as including the development of the windtime by all the TIK participants in general.
A long row of thoughts, of working on things and preparations peak in a huge event in September, that included also an exhibition of pieces, done during the project and beyond.
An exhibition opening on September 5th started the event also for our participants.
Previous to the stream, we started a call for windsounds amongst participants and other interested people, to start a permanent windsound stream. From beginning of August this stream could be received over COL-ME's streaming server.
THE EVENT
The whole event was based on the idea of media and time and the fact, that popular media like television and radio are hard to imagine without our usual time.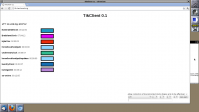 Windclock with UniversalTikTime (UTT)
We would not know whether our favourite programme already started or not, was it not due to our 'standard time'. The event wanted to break the rules and boarders of this idea and establish radio based on TIK's wind-time and an extra online windclock developed for this purpose.
According to the windclock the schedule of the programme was scheduled.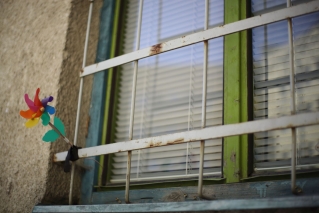 Bratislava Windclock in Progressbar
For this event people from a lot of different countries participated with pre-produced radioshows or live produced pieces, that were scheduled in an approximate schedule according to windtime. During the event we experienced a somewhat loose of time feeling - the windclocks prooved to be more tricky than we thought and we did not consider, that they could go backwards as well. So it could happen that at some points we were thrown back two days in our schedule and we had to re-schedule the event.
The schedule was daily announced (with possible corrections) on our TWITTER account so people could follow what was actually happening on the stream.
The local TIK Artradio Crew produced a total amount of six broadcasts including a vivid discussion with the arrival of a Croatian/Slovenian study group from the group ACT from Cakovec, Croatia.
The local TIK Artradio Crew consisted of Jonathan Prior (UK), Verena Kuni (DE), Ana Vuzdaric (HR), Michal Kindernay (CZ), Michal Cudrnak (SK), Ludmilla Hornakova (SK), Juergen Rendl (AT/SK), Martina Kedrova (SK), Marton Juhasz (HU), Reni Hofmueller (AT), Norberth Math (AT), Barbara Huber (AT/SK).
The following pieces were produced live in Bratislava during the event



First show




Second show




Third show




Fourth show




Fifth show




Sixth show



Additional pieces and remote participants:

Reni Hofmüller: "A night in Bratislava"


Jonathan Prior: "Devinska Kobyla soundwalk"


Anna Friz: "For the time being"
Sarah Boothroyd: "All in time"
Radio Verite from Brno
Ralf Wendt: "Wolves in Greenland"
Shaun Robert: "Invisible"
Absolute Value of Noise: "21st Century Universal Time Signal"


Roger Mills: "Idea of South"
Brian Kelly: "Winterdub: Tannenbaum Mix 2010"
"NEU presents: Human Condition Orchestra"
Easterndaze live from Skopje




Sally McIntyre: "A library for the birds from Otepoti"
[Pictures of the event were made by Tomas Korber and Milivoj Kuhar]