Brussels Thurn & Taxis sound map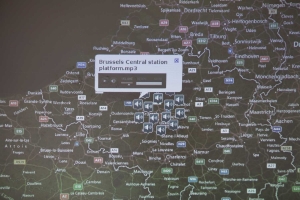 invited artist: Jonathan Prior
Brussels sound map
In the preceding days before the TIK festival exhibition, Jonathan Prior recorded and compiled a Brussels sound map using GPS located field recordings taken from across the city. These are presented as both an interactive map within a gallery setting, and also as a smartphone application, so that these field recordings can be listened to at the exact location where they were recorded.
This lead to a presentation of a sound map that sonically traces the area between Q-O2/OKNO and Thurn & Taxis. An assortment of microphones (including hydrophones and contact microphones) has captured different types of sonic rhythms in the regional soundscape; sounds that may ordinarily pass undetected. Recorded at different times of the day and night between 8-10th May, the recordings were presented as an interactive map in Q-O2, and also as a smartphone application. This will allow the map to be listened to while walking the region, triggering sounds to start at the location where they were recorded.
http://12gatestothecity.com/projects/installations/brussels-sound-map-ma...
Brussels soundwalk
During the TIK festival, Jonathan Prior leads a small group of people on a silent soundwalk through central Brussels. The walk re-traces the exact path of a silent soundwalk undertaken for TIK in June 2011, from Okno to the rapidly developing urban 'wasteland' of Thurn & Taxis. A discussion will follow to interrogate the relationship between sound and space, and how these may change with the passage of time.